A complete skin analysis with a specifically designed treatment plan for your individual needs. Starts with a deep clean, followed by a customized exfoliation with an ultrasonic skin scrubber, followed by extractions, if needed. Our Signature Facial is finished with a customized mask for your skin type as well as a complete face, neck, and décolleté massage.
Pure Glow Nano Infusion Facial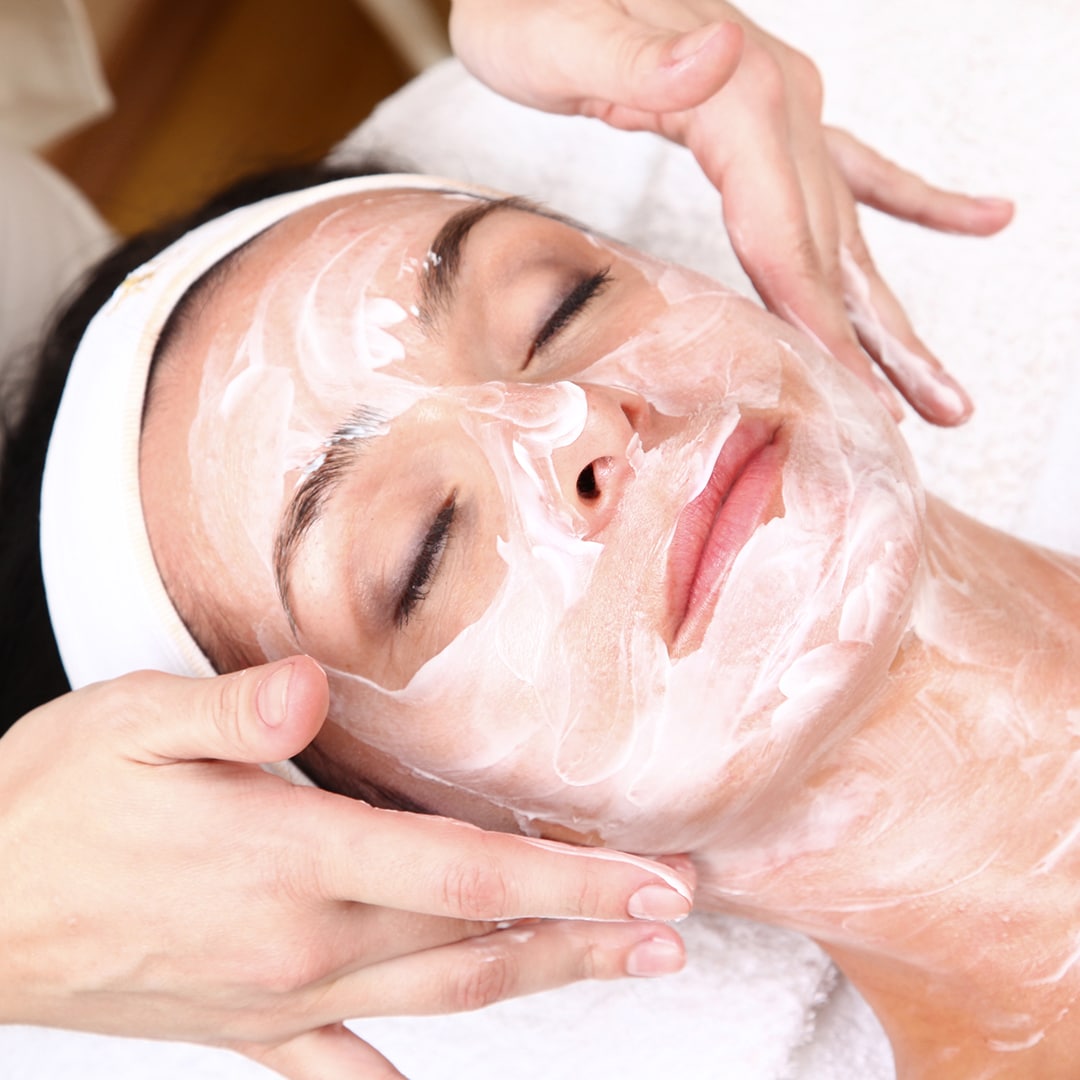 Ready to Start Your Fitness Journey?
Call Pulseology Fitness Club at 843-706-9700
Facial Treatments
Sparkle Skin Facial – $145
Feel the tension melt away as you relax during your signature facial with the added benefits of high-frequency technology. This gentle current delivers a burst of energy to your skin, helping to banish stubborn acne, reduce inflammation, soften fine lines, stimulate blood flow, and promote healthy cell turnover for a radiant, youthful glow. 
Pure Glow Nano Infusion Facial – $145
Say goodbye to dull, lackluster skin and hello to a more youthful, radiant complexion with the added bonus of Nano Needling. Nano Needling delivers a soft touch, ultra-fine, hair-like silicone needles to gently penetrate the skin's surface, infusing a customized serum to stimulate collagen production, reducing fine lines, and improving overall texture and tone. 
Diamond Glow Facial – $145
Transform your skin with the power of Microdermabrasion, a diamond-tipped wand to gently exfoliate the skin's surface, removing dead skin cells, unclogging pores, and revealing a smoother, more youthful complexion. In addition, stimulates collagen production, which helps plump and firm the skin, reducing the appearance of fine lines. This treatment can benefit all skin types, is especially effective for those with acne-prone or oily skin, and can help reduce the appearance of fine lines, sun damage, age spots, acne scars, and hyperpigmentation. 
Glacier Glow Facial – $145
This unique treatment uses the power of cold therapy to soothe, hydrate, and rejuvenate the skin. 
Lighten Up Facial – $145
Pamper yourself with the ultimate indulgence of light therapy with our non-invasive customized LED Light Therapy treatment, designed to target many different skin care needs. This facial is perfect for all skin types and is especially effective for those with acne-prone or aging skin.
Red renovates tone and improves the immunity of the skin. It is indicated under skin spots and for withering dry skin with slow blood circulation
Orange recharges derma with energy – it is indicated for mature dry skin
Yellow performs detoxification functions and normalizes the secretion of oil glands; this frequency is applied for problem skin
Green normalizes cellular metabolism and solves problems typical for dry dehydrated skin
Blue calms, so it is contraindicated under irritations, Rosacea, and for sensitive skin generally
Lilac refreshes and calms sensitive and dehydrated skin
Violet tones, improves the structure and texture of the skin, and is applied on mature skin
Hydra-Breathe Facial – $145
With Hydro Dermabrasion and Oxygen Infusion, you can achieve a refreshed and revitalized appearance in just one session. This innovative treatment combines the power of gentle exfoliation, deep hydration, and oxygenation to reveal brighter, smoother, and younger-looking skin. The process helps remove impurities, unclog pores, stimulate collagen production, and restore hydration levels. Perfect for all skin types and can help reduce the appearance of fine lines, sun damage, age spots, acne scars, and hyperpigmentation. 
Radiant Glow Signature Facial – $130
Looking to rejuvenate your skin and achieve a radiant glow? Nourish your Glow with our customized Signature Facial tailored to your unique skin type and concerns. Our Radiant Glow Signature Facial includes deep cleansing, exfoliation, extractions, and a nourishing mask to leave your skin feeling refreshed and revitalized. But that's not all – we also incorporate a relaxing facial, arm, and neck massage to promote circulation and lymphatic drainage, giving you an instant boost of radiance. 
Sonic Smooth
Transform your skin with our signature SonicSmooth Facial! Our advanced exfoliation process gently removes dead skin cells and unclogs pores, leaving your skin looking and feeling refreshed, rejuvenated, and deeply cleansed. Using the highest quality products and techniques to ensure that your skin receives the possible care. Say goodbye to dull, tired-looking skin and hello to a glowing, radiant complexion that will make you feel confident and beautiful. 
Skin Scrubber
Our gentle yet effective exfoliating treatment removes dirt, oil, and impurities from your skin, leaving it feeling smoothed and refreshed. 
ZO Stimulator Peel
Transform your skin with the power of our ZO Stimulator Peel! This revolutionary treatment exfoliates and revitalizes your skin, leaving it looking and feeling smoother, brighter, and more youthful. This amazing peel is safe and effective for all skin types and requires no downtime.
---
Lashes & Brows
Lash Lift & Tint
Say goodbye to mascara clumps and hello to beautiful, defined lashes as we safely and gently curl and tint your lashes, leaving you with a stunning lash look that enhances your natural beauty. You'll love how easy it is to get ready in the morning, and the results last for weeks. 
Brow Lamination & Tint
Say goodbye to unruly brows and hello to effortless beauty as we sculpt and tint your brows, leaving them looking fuller and more defined. Enjoy stunning brows without the need for daily maintenance, as your results will last for weeks. 
Waxing
Hair removal of the brows, eyes, upper lip, chin, underarms, arms, chest, back, bikini, and legs.
More Treatments
Back Renewal Treatment
Our back treatment is perfect for anyone looking to improve the health and appearance of the skin on their back, whether it's for a special occasion or just as a regular part of your skincare routine. The Back Renewal treatment is designed to cleanse, exfoliate, and hydrate the skin on your back, leaving it smooth, soft, and rejuvenated. Come in and enjoy a relaxing and rejuvenating experience that will leave your skin looking and feeling its best!
Hand Rescue Treatment
Are your hands feeling tired and dry? Nourish the skin on your hands with our Hand Rescue treatment, which is specifically designed to improve the appearance and health of your hands. Just like your face, your hands are exposed to various environmental stressors such as sun damage, dryness, and aging. Over time, these factors can take a toll on the skin of your hands, resulting in wrinkles, age spots, and a dull, tired appearance. Our treatment is specially designed to improve the texture, tone, and overall health of your hands.
ZO Skin Health
ZO® SkinHealth is a premium skincare line developed by world-renowned dermatologist Dr. Zein Obagi. ZO® SkinHealth offers a comprehensive range of advanced skincare products that are designed to optimize skin health and address a wide range of skin concerns.
One of the key features of ZO® SkinHealth is our commitment to a personalized approach and customization. We understand that every person's skin is unique, and we believe that a one-size-fits-all approach to skincare simply doesn't work. Our products are formulated with advanced ingredients that work together to target specific skin concerns, tailoring to your unique skin type and concerns.
To learn more, visit: https://zoskinhealth.com?practice-ref=3133403&practice-name=Pulseology+Fitness+Club.